Our membership size is reminiscent of a house church that Jesus' disciples embraced as they started congregations, and we are creatively living into the flexibility and genuineness afforded us by our size. Here's what you can experience on a Sunday morning at 11am: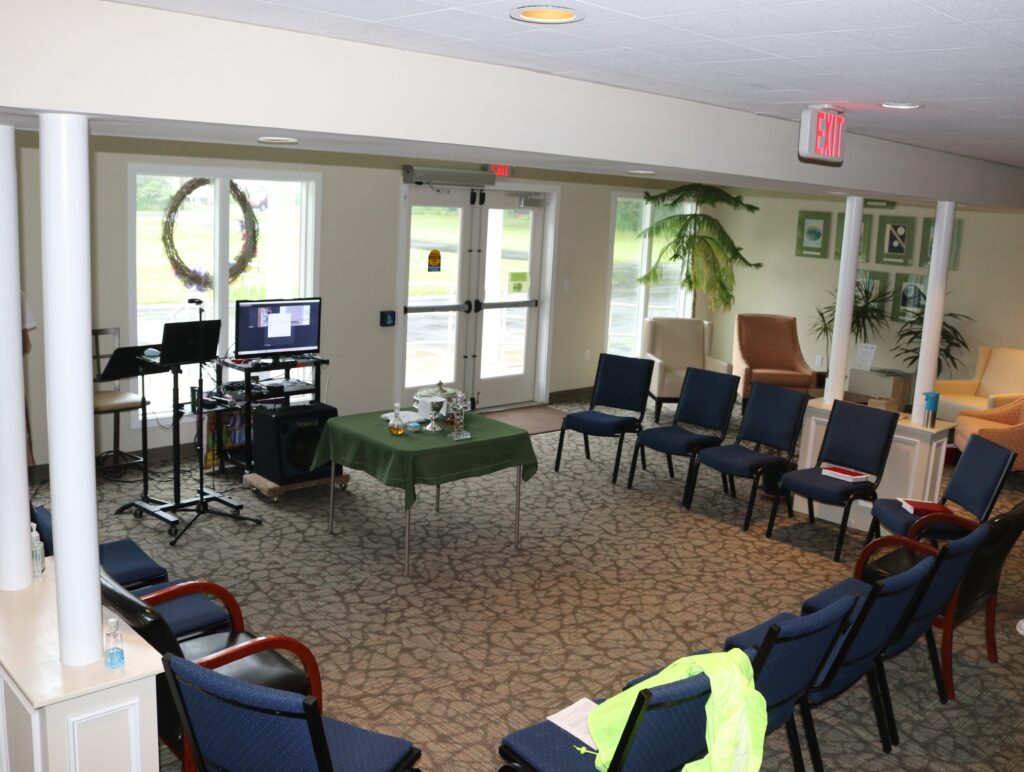 From spring to fall, we enjoy the view from our Gathering Space, arranged amphitheater-style.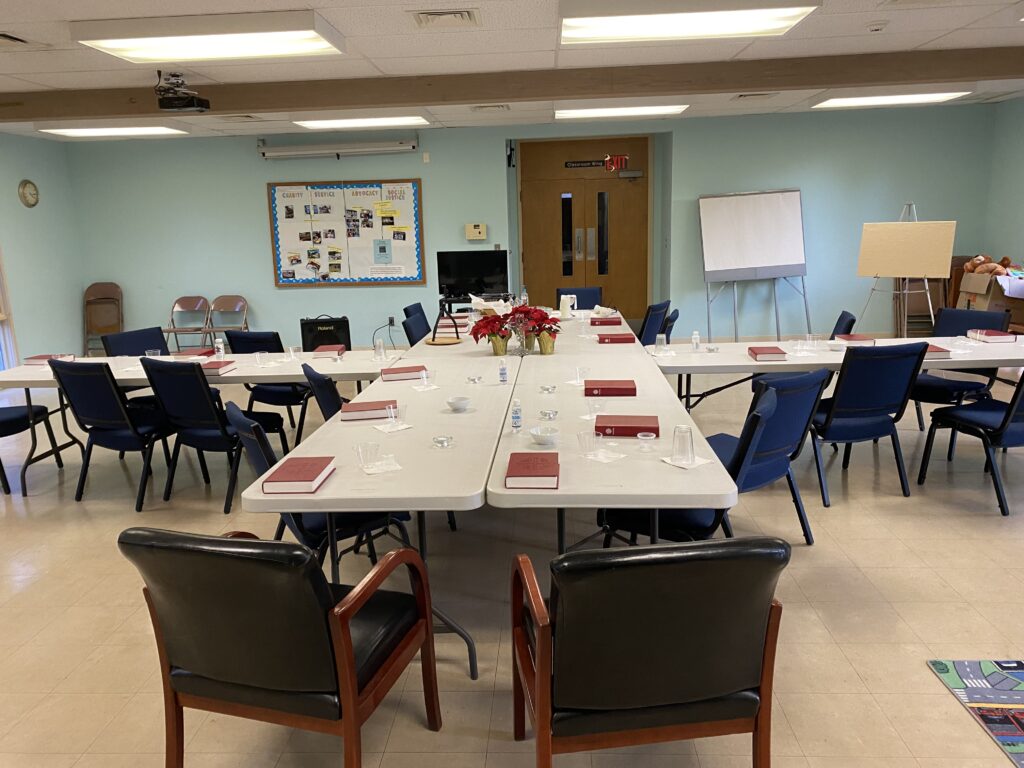 During the winter, we are often seated at tables in the Fellowship Hall, expanding our numbers as needed.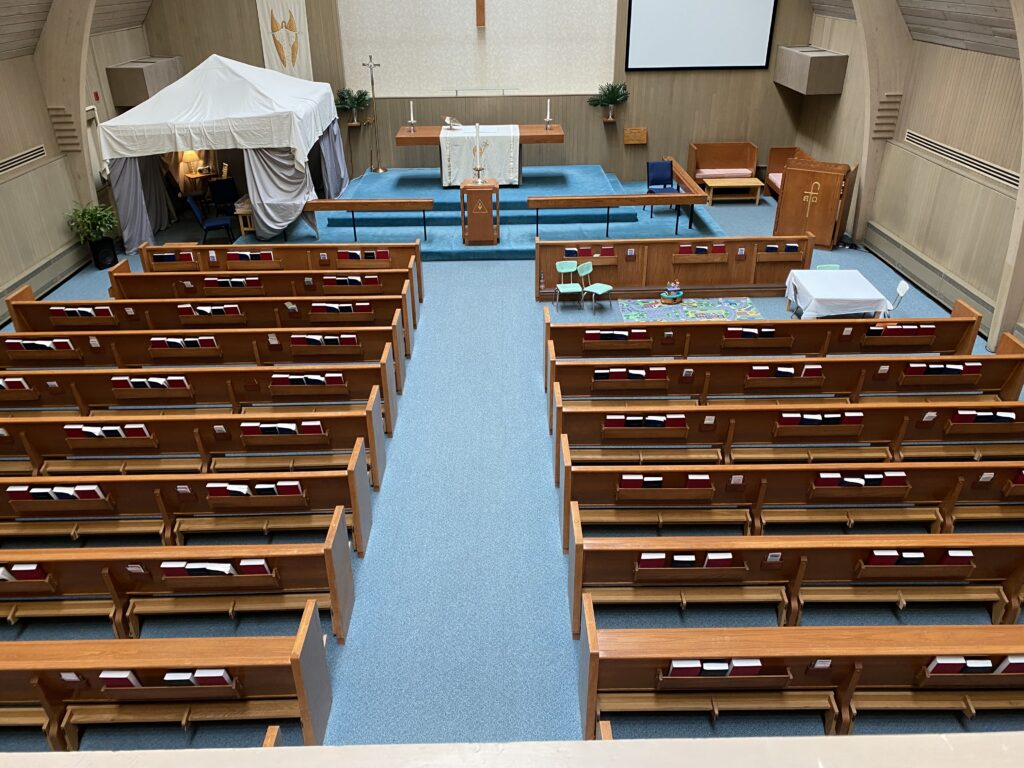 For Christmas, Easter, and special festival days we are in our Sanctuary.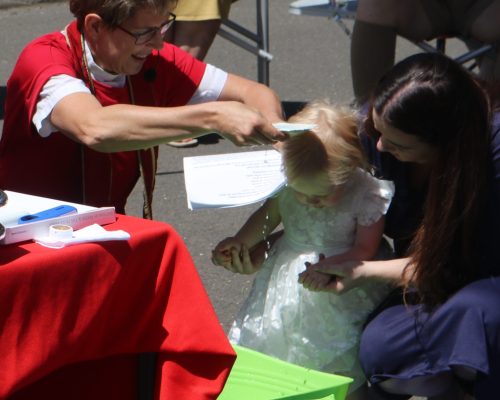 We also hold services outdoors on occasion.
Wherever we worship there are activities available for children within the worship space that reinforce the Children's Message and allow them to process the parts of the service with multi-sensory, multiple intelligent learning strategies (crafts; moon sand; water beads; Booda boards; paints; a children's bulletin; flannelgraphs are examples of activities).
Age is not a limitation at Shepherd of the Hills. As children become interested in actively assisting in the service in any way they feel ready, they are welcome to read, sing, distribute communion, pass out cups for wine or juice or collect them, assist with audio/visual equipment, etc. – however they would like to try to help. 
Children have become vital helpers and we appreciate and encourage them.
We practice Open Communion, so children of any age are welcome at the Lord's Table. Learning about the meaning of Holy Communion accompanies the practice of communing rather than having to be a prerequisite.
WILL I RECEIVE HOLY COMMUNION?
We believe in the real presence of Christ in the bread and wine and if you desire to receive Holy Communion, you are welcome to partake. We offer Bread or gluten-free wafers and wine or juice. We celebrate Communion weekly, and Pastor Chris explains how it will be distributed.
You may wear whatever is your preference. You'll see very casual clothing as well as dresses, coats, & ties.
WHAT IS THE SERVICE LIKE?
We have been following what is known as the Narrative Lectionary, which is a four-year cycle of readings. 
On the Sundays from September through May each year, the texts follow the sweep of the biblical story from Creation through the early Christian church. There is generally one reading. Pastor Chris offers a Children's Message that usually has something for everyone to learn within it and an adult sermon or interactive discussion regarding the reading.
The words of the worship service are printed in a Bulletin. We sing both hymns and contemporary songs (and sometimes liturgical music during particular church seasons).
During the Prayers, worshippers have an opportunity to add personal concerns or joys if they would like to share them aloud. The service itself is pretty informal, like gathering in God's home as the disciples gathered in someone's home.
DO YOU OFFER AN ONLINE OPTION?
Yes, we offer a Zoom option, and we interact with and commune our Zoomers, who are welcome to unmute during the service or put messages in the chat.
To access the link via email, call Pr. Chris or the Office and leave an email address.
If you wish to commune from home while on Zoom, have a bread product and wine/juice/water available at home. Pastor Chris will personally commune you saying: "your name, this is the Body and Blood of Christ given and shed for you." You may then consume the bread and wine.
IS THERE A TIME OF REFRESHMENT FOLLOWING THE SERVICE?
Yes, coffee, tea, water and juice along with something like bagels and cream cheese are most often available. We would be glad to answer any of your questions and enjoy a time of fellowship with you.